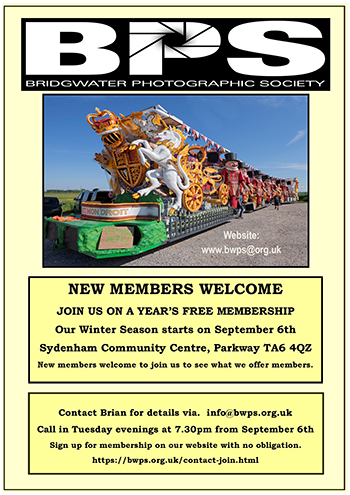 September 7th Chairman's Welcome
A welcome meeting, how we are run, last season's awards, and the new season's programme, Followed by Chairman's insight 'What we do for photography!'

September 14th Guy Edwardes - Creative Nature Photography
We start our season with Guy a pro photographer giving us an insight into his adventures and stunning images from a library of 250 000!
Visit Guy Edwardes' Website
Online Zoom Lecture* (non-members welcome)
Click here to purchase tickets on Eventbrite
(Entry for Monthly Competition required)
September 21st Member's Tutorial
Let us learn from each other, discuss various hands-on Camera Skills/Secrets, Using 'RAW' rather than JPEG why should I bother? Printing how to get a stunning image.
September 28th Monthly Competition
Print (Open); Digital (Power)
Judge Susanne Akerstrom
It's a new season, so let's us all challenge our previous winners for the top monthly and annual positions.
____________________________
October 5th - Members Evening
A chance to share some of your images from the summer for friendly comment and critique.
Or to show us your own recent photographic challenge, project, or passion.
(Entry for Monthly Competition required)
October 12th
Jane Lazenby, BA(hons) Fine Art, QTFE(2), ASEA, LRPS, DPAGB, BPE4, EFIAP, LMPA
Inspired by Art
A welcome return for Jane, a fascinating and in-depth commentary on how art has influenced her work. Visit Jane's Website
Online Zoom Lecture* (non-members welcome)
October 19th - Members Present
Let us discuss and experience how some of the societies 'best images' were created.
Several of our members each take us through the thought and creative process used to obtain some of their memorable images.
October 26th Monthly Competition
Print (Mood); Digital (Open)
Judge Ralph Snook, ARPS, EFIAP/b, DPAGB
Let's see what Ralph makes of our competition entries.
____________________________
November 2nd
Jane Kearney, DPAGB - Falkland's & Astro
We welcome Jane, this time not as a judge but sharing her own photography in the form of a unique trip to the Falkland's, and recent experience in Astrophotography.
November 9th
Internal Comp. – Digital Projected Image Comp.
An opportunity to enter your best images, including reworks after previous feedback in this internal competition, but also for potential club selection for the season's battles and WCPF competitions.
(Entry for Monthly Competition required)
November 16th How Do We…
How to use Photoshop
Photo Software used to refine our images; you define the aspects on which you need instruction or a refresh.
November 23th - Andrew Marker
What a Beautiful World
Welcome Andrew from Clevedon with a mixture of Prints and Audio Visuals for our delight.
November 30th Monthly Competition
Print (Open); Digital (Creative)
Judge: Jane Kearney DPAGB
Looking forward to Jane's valued feedback on this month's entries.
____________________________
Monday 6th December - Sedgemoor Battle at Yeovil CC
Our friendly annual battle against Mid-Somerset CC and Yeovil CC
Show your support by travelling to Yeovil.
This year it may be our turn to bring home the trophy?

December 7th - Lea Tippett
A return evening with Lea for a friendly chat,
a look at some of his latest exhibition prints/images
& maybe even a hands-on opportunity with some equipment he typically uses as a brand ambassador. Visit Lea's Website

December 14th No meeting – Christmas Meal
Hoping we can enjoy the return of this popular social evening with family/friends for a Christmas meal at a local venue.
December 21st - Christmas Social/Buffet
Tis the last meeting before Christmas.
An informal evening of photographic items of your choice and finger buffet.
December 28th Christmas & New Year – No meeting.
____________________________

January 4th
Steve Proctor, DPAGB, BPE5* - Talk to Me
An exploration of working with people to create images to be proud of.
Includes technical aspects of the shoot but will emphasise the importance of collaboration between photographer and subject.
Online Zoom Lecture* (non-members welcome)
(Entry for Monthly Competition required)
January 11th
Ian Bateman FRPS, MPAGB, AV AFIAP
Interactive evening on Judging
We welcome Ian, WCPF President, giving us a hands-on interactive insight into Judging.
January 18th
Portrait Night
We supply the models and lighting
You bring cameras for an evening of portrait photography.
(Entry for Internal Feb Competitions required)
January 25th
Monthly Competition!
Print (Long Exposure); Digital (Open)
Judge: Peter Weaver, APAGB, CPAGB, LRPS A welcome return of Peter to give us his personal feedback and scoring of our images.
____________________________

February 1st
An evening with Pedro Landers
We have previously got to know Pedro as a respected WCPF Judge.
This evening we view a selection of his own images with a mix of images of the USA and UK.
(Entry for Monthly Competition required)

February 8th
Panel & London Salon Style Competitions
A Panel of 3 or 5 print images that have a common theme or style, that are viewed and judged as a group.
Then, a new venture with Bridgwater's take on a London Salon style artistic image competition.
Show your inner artistic flare or sense of humour?
February 15th
Practical Tabletop Photography
A chance to experiment with various practical setups for photography including Water Drop, Polarising, or other Tabletop ideas.
February 22nd Monthly Competition
Print (Open); Digital (Glamour)
Judge: Mac Chivers, LRPS
A return visit for Mac from Bideford CC to give us his considered view of our images.
____________________________
March 1st Tony North BPE4 DPAGB - The Art of Macro
A specialist evening sharing Tony's approach to photographing butterflies, damselflies and other minibeasts in the wild.
Online Zoom Lecture* (non-members welcome) Visit Tony North's Website
https://www.artofmacro.com
March 8th
Practical - Lets create some WCPF Panel Images
As a club we often try to create WCPF Salver images, this season we try with a whole club evening setup, be it a pre-planned tabletop or themed model shoot.
(Entry for Monthly Competition required)
March 15th
Interclub Taunton Battle (Home) We host this annual battle.
Surely it must be our turn to win this hotly contested friendly competition.
Judge: Pedro Landers
March 22nd A WCPF Evening
A look at a WCPF travelling folio or recorded presentation showing the best of the western region.

(Print entries for winners competition required)
March 29th Monthly Competition
Print (Nature); Digital (Open)
Judge: Norman Marsh from Dorchester CC
Concludes the last of our monthly competitions.
____________________________
April 5th
Carol McNiven Young - Creative Portraiture
Award winning Carol provides a lecture that dispels some of the mystery and talks about the techniques and methods of creative studio portraiture, with valued advice on composites and backgrounds.
Online Zoom Lecture* (non-members welcome)
Visit Carol McNiven Young's Website
April 12th Winners Competition
Our best from this season's competitions, entry by qualification only having gained a top five position. Join us to see what will be chosen as Print and Digital Projected Image of the year?
Judge: John Tilsley.

April 19th Mike Martin EFIAP, AWPF - Stairway to Heaven
Mike returns with his very latest collection of stunning and multi award winning images.

Online Zoom Lecture* (non-members welcome)
Visit Mike Martin's Website
(Entry for 2nd chance competition required)
April 26th Members Night
Your chance to share and discuss your personal photographic interests, or take the opportunity for a group photography trip.
(Proposals for our AGM required)
____________________________
May 3rd Inhouse Tutorial or a Zoom lecture
Share some of our vast array of collective photographic skills. What do you want to know, be it Photoshop, printing, or camera technique? Or would you prefer a zoom lecture. Let us know?
May 10th Second Chance Competition
An airing of images that you have previously entered but did not get in to the top five.
Judge: TBD
17th Di & David Armory - Rainforest
Another special evening, despite moving away from Somerset Di & David join us remotely to share their adventure to the Rainforest.
24th Annual General Meeting
Time to influence the future of your club by the election of officers and review of any proposals.
Followed by the Season's Awards & a finger buffet.
31st Let us meet for an evening's photography A start of summer outings with our cameras...